Listen to the CASC re-tender podcast
Many of you will be interested in the latest re-tender plans for local and national clinical audit. These were released by Department of Health on 6th June 2012 and the CASC Directors attended a meeting in London on 25th June to find out more information. The main news is that the re-tender is a three-year contract that has been split into two lots: (1) local audit and (2) national audit. Bidders may compete for one or both lots. The total funds available for Lot 1 are up to £1 million (plus VAT) and for Lot 2 up to £1.6 million (plus VAT) with a further £12-14 million awarded to the successful bidder to run the NCAPOP and CORP. The podcast provides full details of the meeting on 25th June and a great insight into the re-tender plans. Click here to listen to the podcast. In addition, CASC have secured the presentations from the re-tender meeting on 25th June and these can be viewed and commented upon by clicking here.
Latest 'Job Vacancies' report now available
Since July 2009, the Clinical Audit Support Centre have produced a fortnightly job vacancies bulletin listing all clinical audit jobs advertised via the NHS jobs website. Each year the CASC team analyse the relevant data and produce a short report focusing on advertised job vacancies. The 2012 report is now available and this shows continued worrying trends in the reduced number of advertised clinical audit jobs: 178 in 2009-10, 112 in 2010-11 and just 92 in 2011-12. The report also shows that the number of temporary clinical audit jobs has doubled since 2009-10 and that the average salary has not altered significantly over the last three years (2011-12 average advertised audit salary stood at £22,326). At a time when clinical audit is in greater demand than ever and five years after the re-invigoration initiative for clinical audit was started, these are concerning results for all of us working in clinical audit. Click here to download the full report.
CA Tools membership surpasses 300
In a little less than three months since its launch in March 2012, the Clinical Audit Tools website has proved to be a great success. Within 100 days of its launch membership to the website has passed the 300 mark and users from across the globe are signing up to use the resource. The discussion board area on the website is proving particularly popular with vibrant and intelligent discussions taking place on a wide range of local and national clinical audit matters. The latest monthly poll results found that over 80% of respondents do not think that clinical registries should be part of the NCAPOP and a new poll has been started to focus on patient involvement in clinical audit. Exciting recent developments have also included a regional audit group setting up a private members area on the website and other organisations looking to follow suit here. More tools and upgrades to the website are planned for early Autumn and you can access the website by clicking here.
New courses available via CASC
The Clinical Audit Support Centre have recently joined forces with former NAGCAE members, Dr Katherine Birch and Martin Ferris, to offer a series of new clinical audit courses. As part of CASC accredited training delegates constantly tell us that they need a better understanding of how to design questionnaires and turn raw data into useful reports. As a result, we have been working with Dr Birch to develop a series of three one-day courses aimed specifically at helping staff improve their skills and knowledge in this important field. In addition, commissioners have an increasing role to play in clinical audit but often lack the key skills. To help address this matter, Martin Ferris is currently working on a clinical audit commissioning masterclass. These courses will be available soon, but if you would like to register your interest, please email info@clinicalauditsupport.com
'The State of Clinical Audit' final report now available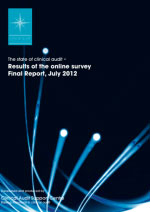 Every year the Clinical Audit Support Centre conduct an online survey of the clinical audit community with the assistance of Snap Surveys. The most recent survey was conducted in December 2011 and a total of 158 respondents gave their views. Key findings were: local audit continues to be seen as the most effective way of improving patient care, national audits still have a mixed reputation and local audit resources are continuing to diminish. The report was published in draft format in May 2012 and was released in its final report format on 2nd July 2012. To download the report, click here.
All set for the CASC national conference!
CASC have been planning their annual clinical audit conference for months and it is now finally here. The event has a great line-up of speakers, including: Simon Bennett (Department of Health), Professor Nick Black (NAGCAE) and Robin Burgess (HQIP). The afternoon session is dedicated to local clinical audit and will feature the first-ever Clinical Audit Innovation Awards. CASC hope to record all of the presentations from the event and make these available via the Clinical Audit Tools website. The work of the finalists of the Innovation Awards will also be featured in a forthcoming issue of the Clinical Audit Today journal. There is still time to book a last minute place if you wish to attend. Call (0116) 264 3411 to book your place.
Junior Doctor Audit Competition deadline fast approaching
After the huge success of CASC's annual 'Junior Doctor Clinical Audit of the Year' competition in 2010 and 2011 we are delighted to announce further details of the 2012 event. Juniors have until the 31st July 2012 to send in their abstracts and finalists will be short-listed by the 10th September. As in previous years the Finals Day will be held in Leicester in November. This year we are offering two awards: the Martin Ferris Award (for the best audit poster as selected by Martin) and Clinical Audit of the Year (to be selected by a panel of clinical audit experts). Please inform junior doctors and colleagues of the competition and encourage them to take part. Further details of the competition, including the entry form can be found by clicking here.
Latest News from HQIP
HQIP have launched a number of new initiatives and made a series of key announcements recently. Their main initiative at the moment is their user technology survey that seeks information from HQIP stakeholders in relation to their IT capabilities. Results from the survey will be used to help make HQIP materials more accessible. HQIP have also recently announced additions to their Patient and Public Involvement library and the Quality Improvement Team will be running a series of events in the Autumn. The HQIP CEO's latest blog outlines HQIP's future plans and HQIP are also inviting applications for their multi-site audit fund. In addition, HQIP have made a series of announcements with regard to results of various NCAPOP national clinical audit reports. To find out more on HQIP's work, visit www.hqip.org.uk.
Tell your friends/colleagues about our E Newsletter

Since we launched our E Newsletter in February 2007 over 1,000 healthcare professionals have signed up! The E News is free and delivered direct to your email account every month. The newsletter provides you with a mix of CASC-related and other clinical audit news to help you keep up to date with what is happening in the world of clinical audit. Don't forget, if you have missed a previous issue of E News please visit the community section of our website where all previous issues are archived. Please email to sign up for your copy: info@clinicalauditsupport.com