CASC/HQIP 2013 junior doctor competition launched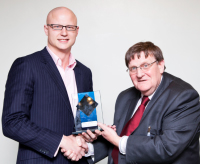 The Clinical Audit Support Centre are delighted to announce that we are now accepting entries for the 2013 Junior Doctor Clinical Audit of the Year competition. The 2013 competition marks the 4th year of the awards and we are pleased to announce that the Healthcare Quality Improvement Partnership are joining us as partners for 2013. In addition to the annual clinical audit competition we are also extending the awards this year to include a broader 'quality improvement' award category. The extension of the competition acknowledges that many junior doctors engage in a wide range of quality improvement initiatives (not just clinical audit) and we welcome entries for both categories. Full details of how to enter both competitions are available by clicking here. Entries must be received by the end of August and the Finals Day will take place in Leicester in November 2013.
HQIP announce new NCA providers
HQIP have recently announced details of contracts for the new National Chronic Kidney Disease Audit and the National Clinical Audit of Rheumatoid and Early Inflammatory Arthritis. The two audits are the latest pair of projects to be added to the National Clinical Audit and Patient Outcomes Programme and both are three-year contracts with the possibility of extensions for a further two-years. The Chronic Kidney Disease Audit has been awarded to a consortium featuring BMJ Informatica, plus partners at University College London – The London School of Hygiene and Tropical Medicine and Queen Mary's Hospital. Meanwhile, the National Audit of Rheumatoid and Early Inflammatory Arthritis has been awarded to the British Society for Rheumatology and Northgate Public Services. More details relating to the contract award and each NCA can be found here.
New NAGG Chair announced
Katharine Young, Clinical Governance Manager at the Royal Berkshire NHS Foundation Trust has been appointed as the new chair of the National Audit Governance Group (NAGG). Katharine, known as Kat, has been co-chair of the South Central Clinical Audit Network and a NAGG member for the last 3 years. Kat brings a wealth of experience developing and implementing clinical standards and leading quality assurance and improvement activities. On her appointment Kat stated 'I am privileged to have the opportunity to lead this group and to champion clinical audit and healthcare quality improvement. It is important that we support staff and Trusts in delivering the maximum impact from clinical audit; using data to drive improvements in care'. In light of recent changes to the quality landscape, NAGG's next meeting will focus on the group's vision/purpose, strategic objectives, structure and name. You can contact Kat via Katharine.young@royalberkshire.nhs.uk or 01189 569621. Meanwhile, minutes from the March NAGG meeting are available via the Clinical Audit Tools website, click here.
Watch Robert Francis address the Kings Fund
It is now over three months since Robert Francis published his 'Report of the Mid Staffordshire NHS Foundation Trust Public Inquiry'. Although the report does not focus in detail on clinical audit, many of the 290 recommendations will impact considerably on the work of those with a remit for clinical audit, patient safety and clinical governance. On 27th February 2013, Robert Francis QC presented the lessons from his inquiry into the failings at Mid Staffordshire NHS Foundation Trust to members of the King's Fund. The 35-minute presentation provides a fantastic insight into the work carried out by Francis and his team and is well worth watching. To view the presentation, click here.
CASC lead audit training for Children's Hospice and Palliative Care sector
CASC worked in partnership with Rainbows and Acorns Children's Hospices on 14th May to deliver a training day devoted to developing clinical audit skills in the sector. One of the outputs from the day is shown to the left of this article! Rainbows in Loughborough played host for the day and Alison Cooke, Director of Care described the work ongoing at the hospice in relation to clinical audit and quality assurance as well as outlining plans for the future. Sharon Simkin from Acorns provided practical information about how clinical audit works across the three sites of the West Midlands hospice. Stephen and Tracy delivered information about the clinical audit process, plus details of how to develop existing clinical governance and audit programmes. The training day evaluated highly and CASC would like to thank all those who attended for making the event a pleasure to be involved in. If you have a group of staff who you would like to be trained and provide delegates with sector specific information and examples, please contact the CASC team.
Need clinical audit help? Join the distance-learning course
In recent years more and more healthcare professionals are being encouraged to participate in clinical audit activity. Medics are now expected to carry out high quality clinical audit for revalidation and appraisal purposes while junior doctors must conduct annual audit projects. Healthcare professionals and commissioners are increasingly asked to conduct clinical audit projects but most lack time, support and expertise to carry out effective and complete projects that improve patient care. CASC's accredited distance-learning course is designed to make clinical audit simple, easy and as painless as possible for those who need to carry out an audit project. All learners receive a detailed course guide and the support of an expert tutor to teach and advise them. Learners who complete the course not only gain a positive experience of clinical audit but they are also rewarded with a national qualification that provides further evidence of learning, professional development and enhances their CV. To read more about the course, click here. In order to obtain a booking form or to speak to a course tutor call (0116) 264 3411.
Request your CASC information pack
CASC have developed a series of promotional materials that provides you with more details of the work that we support. The wallet of information includes a set of inserts: Introducing CASC, training and accreditation, support and consultancy, sharing best practice, event management and CASC case studies. The materials provide a great overview of how we work with healthcare professionals to improve the care that they deliver and there are a number of excellent case studies that show how our work has enabled organisations and teams to collaborate with us on ventures that have improved care, assured best practice and saved money. If you would like to receive your copy, please email your name and full postal address to info@clinicalauditsupport.com
Tell your friends/colleagues about our E Newsletter

Since we launched our E Newsletter in February 2007 over 1,000 healthcare professionals have signed up! The E News is free and delivered direct to your email account every month. The newsletter provides you with a mix of CASC-related and other clinical audit news to help you keep up to date with what is happening in the world of clinical audit. Don't forget, if you have missed a previous issue of E News please visit the eNews section of our website where all previous issues are archived. Please email to sign up for your copy: info@clinicalauditsupport.com