FREE Significant Event Audit training available this Autumn
CASC are delighted to announce details of our latest collaboration with the Healthcare Quality Improvement Partnership. Building on our previous work with the NPSA to establish best practice in significant event audit and our accredited training in this discipline we are pleased to work with HQIP to develop a series of free SEA workshops scheduled for Autumn 2013. The primary aim of the 3-hour workshops is to provide general practitioners with key skills in SEA that will help them meet their revalidation requirements. 14 workshops will be held across 7 days and venues include: Leicester, York, Bristol, Manchester, Birmingham and London. If you are interested in accessing the training or wish to know more, please click here.
New eJournal is now available
The eleventh issue of CASC's online Clinical Audit Today journal is now available. The journal is entering its 6th year and it aims to share best practice in clinical audit and provide thought-provoking editorials and articles. The current issue is devoted to former winners of CASC's Junior Doctor Clinical Audit of the Year competition and five junior doctors have kindly written summaries of their successful audit projects that gained national prominence. To read the journal, please click here. We hope that the next journal will focus on international clinical audit so if you are aware of any great audit work being undertaken outside of the UK, then please let us know via info@clinicalauditsupport.com
Junior doctor competitions: deadline imminent!
The Clinical Audit Support Centre are now accepting entries for the 2013 Junior Doctor Clinical Audit of the Year competition. The 2013 competition marks the 4th year of the awards and we are delighted to announce that HQIP are joining us as partners for 2013. In addition to the annual clinical audit competition we are also extending the awards this year to include a broader 'quality improvement' award category. The extension of the competition acknowledges that many junior doctors engage in a wide range of quality improvement initiatives (not just clinical audit) and we welcome entries for both categories. Full details of how to enter both competitions are available by clicking here. Entries must be received by the end of August and the Finals Day will take place in Leicester on 20th November 2013.
Horse vets join forces with CASC to prove clinical audit is neigh problem!
CASC are delighted to announce that we have started to work closely with the British Equine Veterinary Association (BEVA) in supporting them to conduct high quality clinical audit projects. In July, the CASC team facilitated two-days with equine vets to train them in clinical audit methodology and start the development of equine audit projects. Although some of the delegates were audit novices they didn't have a blinkered attitude to clinical audit and were very keen to take up the reins! BEVA and CASC have developed a section of the Clinical Audit Tools Discussion Board to enable ideas and information to be shared across the veterinary community. BEVA and CASC have already set a consensus-based criterion "to present equine clinical audit developments at a human healthcare conference within twelve months"!
Marie Curie seek to appoint Clinical Audit Lead
An exciting opportunity has arisen for a Clinical Audit Lead in Marie Curie Cancer Care, a leading provider of high quality end of life care for adults. The permanent position is based in Vauxhall (London) and the salary is £28,699 plus £2,550 London Allowance (per annum). The position is full-time (35 hours per week) and the job description, guidance notes and application form can be accessed, by clicking here. Please quote reference number SE294. The closing date for applicants is 19th August 2013.
Three short clinical audit films released
Clinical Audit Support Centre try exceptionally hard to identify examples of best practice in clinical audit and share these with the wider clinical audit community. A common problem in audit circles revolves around the perceived lack of high quality clinical audits that others can review and learn from. To help address this problem, CASC have worked closely with former winners of the 2011 Junior Doctor Clinical Audit of the Year competition to produce a number of short films that showcase exceptional audits that were selected as competition winners by a wide-range of clinical audit experts. More films will be developed in due course and we invite you to take a look at the first three, via Clinical Audit TV. Click here to watch.
Train the trainer course offered at discounted rate
CASC are delighted to announce that we have been asked by HQIP to update our popular Clinical Audit Teaching Toolkit. With this in mind, we plan to review and update all content of our Train the Trainer in Clinical Audit course in Autumn 2013 and make sure that content links to the updated resource. As a result, the Train the Trainer course will be running in its current format for the final time on 18th September in Leicester. Many clinical audit staff have accessed the course and found it beneficial and we are reducing the cost of the final course from £250 plus VAT to just £150 plus VAT. Attendees will receive a copy of the current teaching toolkit and can also gain a valuable generic teaching qualification. For more details, click here.
NHS England's Clinical Audit webpage taking shape!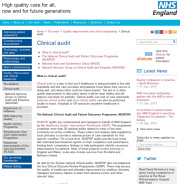 Many of you working in clinical audit will be aware that NHS England have recently developed a new webpage that includes information on clinical audit and provides access to the latest details relating to NAGCAE, HQIP, the NCAPOP, NAGG, etc. Indeed, recent uploads to the webpage include NAGCAE minutes from March and June 2013 that are certainly worth taking a look at in order to gain a full overview of strategic national developments and plans for clinical audit. NAGCAE's 2012-13 annual report is also available for download and it is noted that the site has been set up to provide further details relating to the future development of NAGG. Find out more by clicking here.
Don't be shy: share your views with the audit world!
It is now almost 18 months since CASC launched the Clinical Audit Tools website. To date, nearly 1000 members have joined the website and the 'is it a clinical audit?' and 'clinical audit ready reckoner' tools have proved extremely popular. The website also offers those with an interest in clinical audit an opportunity to share views, challenges and ideas via the online discussion board. Initial uptake was excellent, but predictably activity had dropped since a promising start. We remind you all of the value and benefit of audit professionals helping each other and hope that you can find time to visit the discussion board to read and add comments. Recent interesting debates focus on NAGG and NAGCAE, pros and cons of continuous data collection and the value of 'not applicable' on audit forms. Click here to visit the website.
Details announced for two national clinical audit conferences
HQIP have announced details of their annual clinical audit conference and bookings are now being taken. This year's two-day event will be held at the East Midlands Conference Centre in Nottingham from 14th to 15th October. The theme for this year's event will be 'Ensuring safety, driving improvement' and delegates will have access to keynote speakers and a wide-range of interactive workshops. Healthcare analyst and broadcaster, Roy Lilley will chair two interactive panel debates and the event will bring together local clinical audit professionals and national clinical audit providers. For more details, please click here. In addition, Healthcare Conferences UK have recently announced plans for their annual audit event and this will take place from 26th to 27th February 2014 in London. HCUK are calling for abstracts and more details are available via this link.
Request your CASC information pack
CASC have developed a series of promotional materials that provides you with more details of the work that we support. The wallet of information includes a set of inserts: Introducing CASC, training and accreditation, support and consultancy, sharing best practice, event management and CASC case studies. The materials provide a great overview of how we work with healthcare professionals to improve the care that they deliver and there are a number of excellent case studies that show how our work has enabled organisations and teams to collaborate with us on ventures that have improved care, assured best practice and saved money. If you would like to receive your copy, please email your name and full postal address to info@clinicalauditsupport.com
Tell your friends/colleagues about our E Newsletter

Since we launched our E Newsletter in February 2007 over 1,000 healthcare professionals have signed up! The E News is free and delivered direct to your email account every month. The newsletter provides you with a mix of CASC-related and other clinical audit news to help you keep up to date with what is happening in the world of clinical audit. Don't forget, if you have missed a previous issue of E News please visit the eNews section of our website where all previous issues are archived. Please email to sign up for your copy: info@clinicalauditsupport.com