Lots of highlights at the HQIP conference
HQIP's annual conference was held at the East Midlands Conference Centre from 3-4 November with over 300 clinical audit, quality improvement and healthcare professionals in attendance. Highlights from the two-day event included the HQIP annual awards evening showcasing best practice in clinical audit across both local and national audit. Congratulations go to Southport and Ormskirk Hospital NHS Trust who claimed HQIP's gold award for their project entitled 'The introduction of helping hands and dining companions as a result of a national audit'. The event also featured many keynote speakers plus 12 interactive workshops. Highlight of the event was undoubtedly Dr. Kate Granger's speech detailing the impact of her #hellomynameis campaign. For all the news and feedback from the conference, visit www.hqip.org.uk
Still time to book on the junior doctor finals day
The programme for CASC and HQIP's annual clinical audit junior doctors awards taking place in Leicester on 19th November is now in place. The event will begin with a keynote presentation by Professor Keenan (HQIP Medical Director) and also includes talks from Dr. Kate Granger, Barrister Nikhil Arora and James Hilton (Art of Brilliance team). There will be updates from the NICE clinical audit team, a national clinical audit update from Professor Draper plus presentations from junior doctors who have previously won awards in both the clinical audit and QI competitions. The finale for day will feature the awards ceremony with a total of seven prizes on offer. Sadly, bookings from clinical audit professionals for the event have been low, although places are still available. To see the flyer for the event, please click here.
Southport and Ormskirk win HQIP's Gold Award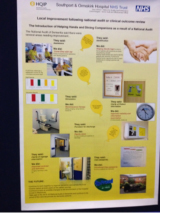 Southport and Ormskirk Hospital NHS Trust claimed HQIP's gold award for their project entitled 'The introduction of helping hands and dining companions as a result of a national audit'. The project developed after the National Audit of Dementia highlighted several areas that needed improvement. Other winners at the HQIP awards ceremony on 3rd November included: SSNAP for the national innovative dissemination category, National Audit of Schizophrenia for creating conditions for local improvement category and Shrewsbury and Telford for their work on setting up a patient panel and winning the patient involvement for local projects category. Check the HQIP website for full details of all winners and shared learning.
Please take part in our brainwriting survey!
As part of CASC's preparations for our Root Cause Analysis for Clinical Audit workshops taking place later this year, we would like those involved in clinical audit to take part in a short brain-writing task. Brainwriting is a simple RCA technique that helps to generate ideas and solutions. The questions we have asked relate to common clinical audit problems, e.g. barriers that prevent effective local audit, how national audit could be improved, ideas for improving patient engagement in clinical audit, etc. We have utilised Survey Monkey to create this activity and it will take you no longer than ten minutes to complete. Outputs from the survey will be used in the RCA training sessions with information also published via the CASC website in due course. Click here to take part in the brainwriting survey.
Get behind #hellomynameis campaign!
As part of the recent HQIP conference, Dr. Kate Granger explained how she set up her #hellomynameis campaign. This stemmed from her personal patient experiences and the fact that many healthcare professionals who treated her did not introduce themselves. As a result, Kate's campaign encourages all healthcare professionals to introduce themselves to patients with the phrase 'hello my name is' and the initiative gained considerable momentum via social media and has been subsequently adopted by many NHS organisations. Interestingly, as part of her presentation, Dr. Granger questioned the value of the Friends and Family Test and noted that she has completed this on many occasions. To find out more about Kate's inspirational work, please visit www.hellomynameis.org.uk. Kate is also speaking as part of the Junior Doctor Finals Day in Leicester on 19th November.
Book now for free Root Cause Analysis training
As part of an exciting new initiative, HQIP have invited the CASC team to develop a series of workshops exploring how established root cause analysis techniques can be used to maximise the impact of clinical audit. The workshops are aimed at clinicians and clinical audit professionals and will focus on how RCA tools may be used to help improve sub-standard care identified by audit projects as well as looking at how RCA may enhance common clinical audit problems, e.g. failures to implement action plans, no re-audits taking place, failed audit projects, etc. Demand for the eight one-day workshops has been high, but you can still book your place and register interest via the HQIP website.
Clinical Audit Awareness Week proves a success
HQIP's annual clinical audit awareness week took place from 20-24 October with lots of events and activities showcasing the value of clinical audit and wider quality improvement work in healthcare. As part of the proceedings, HQIP delivered a variety of daily webinars and these can be watched back via the HQIP website. In addition, the HQIP team also facilitated themed nightly clinical audit twitter chats. As part of the awareness week clinical audit and QI teams across the country held a variety of events from tea breaks, to meet and greet sessions, to one-day conferences showcasing best practice. CASC contributed a daily twitter treasure hunt won by Robin Sasaru, created a clinical audit crossword (see below) and released a new blog from our controversial auditor, Acus Punto.
NICE team crack CASC's clinical audit crossword!
Lisel Miller and Sally Sutcliffe from NICE were the first team to successfully complete CASC's clinical audit crossword. The crossword was released on 20th October as part of Clinical Audit Awareness Week. For those interested, the correct answers were, across: (2) smart, (7) rapid cycle, (8) sample, (11) baker, (13) WHO, (14) change, (18) action plan, (20) excel and (21) topic. Down answers: (1) baseline, (3) graph, (4) Pareto, (5) Nightingale, (6) Black, (9) evidence, (10) data, (12) run, (15) Pringle, (16) Kennedy, (17) snapshot and (19) NICE – very apt given that Liesl and Sally cracked the crossword first! Thanks to those of you who had a go and gave us positive feedback!
Request your CASC information pack
CASC have developed a series of promotional materials that provides you with more details of the work that we support. The wallet of information includes a set of inserts: Introducing CASC, training and accreditation, support and consultancy, sharing best practice, event management and CASC case studies. The materials provide a great overview of how we work with healthcare professionals to improve the care that they deliver and there are a number of excellent case studies that show how our work has enabled organisations and teams to collaborate with us on ventures that have improved care, assured best practice and saved money. If you would like to receive your copy please email us via info@clinicalauditsupport.com
Tell your friends/colleagues about our E Newsletter

Since we launched our E Newsletter in February 2007 over 1,000 healthcare professionals have signed up! The E News is free and delivered direct to your email account every month. The newsletter provides you with a mix of CASC-related and other clinical audit news to help you keep up to date with what is happening in the world of clinical audit. Don't forget, if you have missed a previous issue of E News please visit the eNews section of our website where all previous issues are archived. Please email to sign up for your copy: info@clinicalauditsupport.com