See CASC at HCUK's annual audit event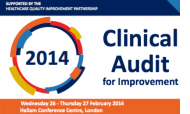 The CASC Directors are delighted to report that we have been invited to present on Day 1 of Healthcare Conferences UK annual Clinical Audit for Improvement conference in London on 26th February. On the opening morning of the event we will be facilitating a masterclass entitled 'Training and educating staff in clinical audit' and this will focus on how to teach and inspire junior doctors and other healthcare professionals to take part in audit. In addition, CASC will be presenting in the afternoon of the opening day on 'The state of clinical audit' that will focus on results and learning from the 4th CASC annual clinical audit survey. CASC will be exhibiting at the event and we are delighted to be able to offer a discounted rate of £200+VAT to clinical audit professionals. For more details regarding the event, click here.
HQIP announce Action Planning workshops
Those of us with experience of clinical audit appreciate that a recurring problem is often the failure of audit and quality improvement projects to result in robust action plans that change practice for the better. Indeed, Robert Francis QC himself noted that Stafford Hospital conducted many clinical audit projects, but few led to changes in practice and re-audits demonstrating improvements in care. It is great news that HQIP have focused their attention on the need to address this matter and are offering a series of six free workshops at various venues around the country. Demand for the workshops has predictably been high but we encourage you to find out more here.
The value of a clinical audit team away day
CASC have recently worked with a number of local clinical audit teams to facilitate an away day on their behalf. Clinical audit away days were commonplace in the 1990s but now occur less frequently. However, the value of teams sharing a day together outside the office to focus on their strengths, weaknesses, opportunities and threats should not be under-estimated. As part of a recent away day, we also introduced the audit team to the concept of HUGGs (Huge Unbelievably Great Goals). We are trialling the concept of HUGGs within the field of audit and quality as we see them as dynamic and inspirational approaches that compliment action plans. One audit team developed a HUGG stating that 'by 2015 we will be national leaders in patient involvement in clinical audit'. If you would like more information on how we can assist in planning away days for teams, then please get in touch via info@clinicalauditsupport.com.
NAGCAE minutes available
The latest minutes from the National Advisory Group on Clinical Audit and Enquiries (NAGCAE) are now available via the NHS England website. If you are unfamiliar with NAGCAE, the website also provides details of group members, previous minutes and annual reports. The December 2013 minutes reveal that there are currently two NAGCAE vacancies and that permission to recruit is being sought through NHS England. In addition, the minutes report that work on a national clinical audit (NCA) quality assessment framework is well underway and this is designed to improve the quality of national clinical audits. Costing of national audits was also discussed along with proposed NCAs for inclusion in Quality Accounts 2014/15. HQIP's new Chief Executive, Jane Ingham also attended the meeting outlining her vision for the future. To access the minutes, click here.
Clinical Audit Tools discussions
CASC are pleased to announce that January 2014 resulted in the highest number of posts on the Clinical Audit Tools discussion board since 2012. The discussion board is user-friendly and easy to navigate with a range of helpful categories, e.g. local audit, national audit, quality improvement, etc. All NAGCAE and NQICAN minutes are available via the discussion board and the December 2013 NAGCAE minutes have received a number of comments. In addition, users have been eager to discuss the interim results of CASC's 'state of clinical audit' survey and debate the need for clinical audit databases. To access the discussion board, click here.
Further updates from CASC annual audit survey
CASC reported interim results from our 4th annual 'State of Clinical Audit' survey in our January 2014 eNewsletter. During the course of January we have been analysing the data in more detail and the full report will be published via the CASC website in the next few months. Perhaps the main findings from the survey are that results for 2013 continue to be consistent with results from previous years. For example, views on the quality of national audits, patient involvement in clinical audit and tools used to help facilitate clinical audit have changed little in the last 12 months. Local audit was once again rated as the most effective way of improving patient care (as opposed to national audit) and HQIP's website and e-Bulletin were the most used resources for accessing clinical audit information.
Website watch: Annals of Medicine and Surgery
Published by Elsevier, Annals of Medicine and Surgery (AMS) is an online, peer-reviewed open access journal focusing on those training in medicine and surgery (postgraduate and undergraduate). AMS contains a mix of original clinical and basic science research, reviews, editorials, commentary, perspectives, debate, opinion, case reports and journal club reports. The journal acts as a venue for all those at any stage in their training and features quality improvement and clinical audit projects. The journal would be delighted to consider any submissions of original clinical audit or quality improvement work. For more information visit www.annalsjournal.com
Book now for CASC courses
CASC's popular accredited Advanced Clinical Audit course takes place in Leicester on March 20th and there are a few places remaining. On the same day we are running our Root Cause Analysis Masterclass and there are a small number of places remaining on our free significant event audit training in Leicester on 12th February (see the Events section on the HQIP website for more details). Our updated Clinical Audit Teaching Toolkit is nearing completion and will be available soon and with this in mind we have places available on the accredited Train the Trainer in Clinical Audit course being held in Staffordshire on 7th March. If you are interested in any of the courses listed above please contact the CASC team.
Request your CASC information pack
CASC have developed a series of promotional materials that provides you with more details of the work that we support. The wallet of information includes a set of inserts: Introducing CASC, training and accreditation, support and consultancy, sharing best practice, event management and CASC case studies. The materials provide a great overview of how we work with healthcare professionals to improve the care that they deliver and there are a number of excellent case studies that show how our work has enabled organisations and teams to collaborate with us on ventures that have improved care, assured best practice and saved money. If you would like to receive your copy please email us via info@clinicalauditsupport.com
Tell your friends/colleagues about our E Newsletter

Since we launched our E Newsletter in February 2007 over 1,000 healthcare professionals have signed up! The E News is free and delivered direct to your email account every month. The newsletter provides you with a mix of CASC-related and other clinical audit news to help you keep up to date with what is happening in the world of clinical audit. Don't forget, if you have missed a previous issue of E News please visit the eNews section of our website where all previous issues are archived. Please email to sign up for your copy: info@clinicalauditsupport.com