OCNWMR report praises CASC training courses
At the start of the year OCNWMR conducted a review of CASC's accredited courses and produced a subsequent monitoring report. The review of management and administration, staffing and resources and procedures and policies found CASC to be fully compliant. Previous actions requested by OCNWMR had been effectively implemented by the CASC team and the report concluded 'The Internal Verification process is working well. The courses provided by Clinical Audit Support Centre Ltd. are an excellent example of good practice in on-line assessment and the learner achievement is of a high standard. The support provided by the CASC assessor is supportive, informative and constructive and the internal verification robust'. Whilst delighted with this feedback, CASC plan to make a number of subtle changes in coming months to improve our accredited training further. If you are interested in finding out what courses CASC offer, click here.
HQIP announce important dates
HQIP have announced that their annual conference will take place from 3-4 November at the Nottingham East Midlands Conference Centre. In addition, the Clinical Audit Awareness Week has been scheduled for 20-24 October and this will include audit tea breaks, evening twitter chats, webinars, etc. Booking for the conference is not yet open and HQIP will provide further details in due course via their website. In other news, HQIP are currently recruiting and seek a Programme Manager for their Clinical Outcome Reviews Programme, plus an NCAPOP Associate Director (Development and Quality). To find out more details about the planned conference, awareness week and job vacancies, please click here.
Prof Black's review and recent award
Professor Nick Black (Chair of the National Advisory Group on Clinical Audit and Enquiries) recently told the BBC Radio 4's 'File of 4 programme' that based on what he knew the Hospital Standardised Mortality Ratio (HSMR) should be ignored. Prof. Black has been asked by the NHS to see whether HSMR's are an accurate indicator of poor care. His review will not be published until December, but further details of his interview with the BBC are available here. In addition to his recent work, it should also be noted that Prof. Black was awarded an international lifetime achievement prize for his work on patient reported outcomes at the International Society for Quality in Healthcare 2013 event. More details of his award can be found here and CASC congratulate him on his success.
Updated CASC teaching pack is set for launch!
CASC are delighted to be able to announce that an updated version of our popular Clinical Audit Teaching Toolkit will be available just after Easter. The new pack builds on the first document published in 2011 and includes ten new ideas for helping trainers make clinical audit workshops more interesting and interactive. New activities include a sample size experiment (that highlights the importance of adopting sampling techniques for clinical audit data collection), clinical audit myth-busters and a series of short clinical audit films narrated by junior doctors. CASC have worked in partnership with HQIP to update the toolkit and we understand that a series of free training events will take place after Easter whereby those interested in finding out more will be able to meet the CASC team. Watch the CASC and HQIP websites for further details.
News from OICAN's 2014 Clinical Audit day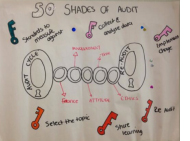 On 1st April the Robert Jones and Agnes Hunt orthopaedic hospital in Oswestry hosted the annual OICAN clinical audit conference with speakers from CASC, NICE, the National Joint Registry and BMJ Quality all addressing the audience. Ashley McKimm encouraged attendees to share their audit and QI projects via BMJ Quality and more details can be obtained by clicking here. All attendees participated in 'the clinical audit world cup' with the winning squad producing an inspired version of the clinical audit process based on '50 shades of grey' (see above). Undoubted star of the show was George Rook (Patient Panel and Clinical Audit Committee Member at RJAH) who provided his own personal insights in terms of how to get effective patient involvement in audit and QI. He described particular challenges involved in patient participation and noted that patients need time, support, training and mentorship.
New poll for Tools website
As we head into Spring CASC have updated the Clinical Audit Tools website. The homepage now includes a new poll asking respondents to rate how seriously your Chief Executive and Trust Board take clinical audit. Please cast your vote via the poll. The discussion board continues to attract interest and latest debates relate to: terms of reference for a Trust's Clinical Audit Committee, patient surveys in palliative care and quality management software for clinical audit. We will be adding more content to the discussion boards in April and invite those working in clinical audit and quality improvement to post comments and questions they would like to share. To access the website, click here.
Feedback on 'Improvement begins with I' event
On 26th March CASC helped Leicestershire Partnership Trust organise their second annual clinical audit and QI conference. Highlights included a number of excellent external speakers from NICE, the Care Quality Commission and The Art of Being Brilliant. The day also showcased a number of successful local audit projects via presentations and poster competitions, plus a superb internal 'audit of local audits' presentation from Craig Parylo. Dr Khoosal (Consultant Psychiatrist and Chair for the day - pictured) summed up the event succinctly with his closing remark 'change in the NHS is everyone's business, but improvement does indeed begin with I'.
IARMM event - call for abstracts
The International Association of Risk Management in Medicine (IARMM) have announced details of their 3rd World Congress of Clinical Safety and this will be taking place in Madrid from 10-12 September. The call for abstracts for posters and presentations is now open and these must be submitted by 15th May. Abstract topics are wide ranging and include: patient safety and quality improvement, medication and drug safety, information and education of safety promotion, etc. To find out more, click here.
Request your CASC information pack
CASC have developed a series of promotional materials that provides you with more details of the work that we support. The wallet of information includes a set of inserts: Introducing CASC, training and accreditation, support and consultancy, sharing best practice, event management and CASC case studies. The materials provide a great overview of how we work with healthcare professionals to improve the care that they deliver and there are a number of excellent case studies that show how our work has enabled organisations and teams to collaborate with us on ventures that have improved care, assured best practice and saved money. If you would like to receive your copy please email us via info@clinicalauditsupport.com
Tell your friends/colleagues about our E Newsletter

Since we launched our E Newsletter in February 2007 over 1,000 healthcare professionals have signed up! The E News is free and delivered direct to your email account every month. The newsletter provides you with a mix of CASC-related and other clinical audit news to help you keep up to date with what is happening in the world of clinical audit. Don't forget, if you have missed a previous issue of E News please visit the eNews section of our website where all previous issues are archived. Please email to sign up for your copy: info@clinicalauditsupport.com