RCA guide now available
In 2015, the Healthcare Quality Improvement Partnership (HQIP) commissioned the CASC team to write a short guide focusing on how root cause analysis (RCA) techniques can be used to enhance clinical audit. The guide has been available on the HQIP website since the start of the year but we are delighted to announce that the resource can now also be accessed via the CASC website. The document includes sections on many established RCA techniques such as: cause and effect model (fishbone), five whys, process mapping, run charts, brainstorming, nominal group technique, the Pareto Principle, timelines, etc. To find out how to download the resource, click here.
Do you require project support?
In addition to the accredited training courses offered by CASC, the team also has experience and expertise in providing a wide range of project support for NHS and healthcare teams in the short to long-term. Over the years CASC have helped clinical audit and quality improvement teams with many initiatives from developing training materials, producing clinical audit tools, assessing data and writing reports to conducting patient surveys and running in-house clinical audit and quality improvement events/conferences. We are also happy to conduct independent clinical audit and quality improvement projects and these are often viewed positively by the likes of the Care Quality Commission as they demonstrate an independent and external assessment of care. If you need any support to cover maternity leave or short-term vacancies then please get in touch.
CASC DNA tracker proving great success
Just over a month ago the CASC team launched our DNA Excel tracker that helps GP surgeries to monitor their weekly Did Not Attend rate using run charts. The resource is simple to use and includes researched tips, hints and strategies advising how surgeries can attempt to reduce their DNA rate. The spreadsheet has been set up in such a way that surgeries only need to enter their weekly DNA rate and list size in order to be able to track their data and to see if changes they implement lead to a non-random improvement. The DNA tracker is available via the excellent Practice Index website and is free to all. Since launching in May the resource has been downloaded over 340 times and the feedback has been excellent.
SEA mini-guide available soon
In recent months the CASC team have been focusing our attention on patient safety and risk management techniques. Although many healthcare providers use root cause analysis (RCA) to review their incidents and near misses many are unaware of the value of significant event audit (SEA). The two key benefits of using SEA instead of RCA are that the approach is more team-based and takes significantly less time to conduct. While SEA would not be appropriate to review high-level incidents involving patient death and harm, SEA is perfect for reviewing lower-level incidents. In recent months the CASC team have delivered training in SEA and we are now in the process of writing a mini-guide entitled: Taking SEA to the next level: how to impress your CQC inspectors. In the meantime, if you are interested in our SEA accredited training please get in touch.
Latest news from HQIP
The month of May appears to have been a busy time for HQIP with the release of a number of national audit reports and the launch of their excellent new Medical Director VLOG. For those unfamiliar, a VLOG is a video blog or log and the first edition to be recorded and released by the HQIP MD Professor Danny Keenan focuses on the Stroke Audit-based report from Benjamin Bray into seven-day working care patterns of care and getting more from clinical audit data. We like the style and novelty of the VLOG and encourage clinical audit professionals to watch the ten-minute film. In addition, HQIP have released a report into the wide variation in the incidence of stillbirths and neonatal deaths (part of the Maternal, Newborn and infant outcome review programme). There is also information that exam stress and bullying are linked to child suicide risk according to a new report by the National Confidential Inquiry into Suicide and Homicide by People with Mental Illness (NCISH). To access HQIP resources visit www.hqip.org.uk
CASC meet NQICAN chairman
On 25th May the CASC Directors were delighted to meet with Carl Walker (pictured), current chairman of the National Quality Improvement and Clinical Audit Network (NQICAN). Carl works for University Hospitals Leicester and is also a member of our regional East Midlands Clinical Audit Network and so we know him well. Our discussions focused on how national clinical audits could be improved and the outputs of the recent CASC reinvigoration workshop and leadership survey. We hope to work more closely with Carl and NQICAN later in the year and would encourage you to take a look at the NQICAN website, click here. In further NQICAN news, we would like to congratulate NQICAN member, Michael Spry and Countess of Chester Hospital for being shortlisted for the recent HSJ value awards.
Latest news on junior doctor competitions
Since launching details of our seventh annual junior doctor clinical audit and quality improvement competitions in May 2016, we have been delighted with the response. In the first month alone we received ten entries, considerably more at this stage than compared with previous years. Those wishing to submit abstracts have until the end of August to do so and this year we have reduced the burden on junior doctors by lowering the word limit from 1,000 to 800. Please signpost your junior doctors to the competition via the CASC website: www.clinicalauditsupport.com. If you would like to see winning posters from previous years, please click here. Congratulations to Dr. Jennifer Cathcart and Dr. Neil Cowan (winners of the 2015 QI Award and pictured) for having their project published in BMJ Quality.
Clinical Audit Tools website now closed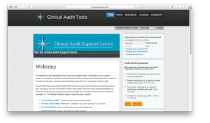 As reported in previous issues of our eNewsletter, via our Twitter account and on the CASC website, we have now closed our Clinical Audit Tools website. The resource was established in 2012 and initially proved extremely popular with over 1,000 users signing up to access the online discussion board, the short films on clinical audit and tools such as Is it a clinical audit? and the Clinical Audit Barometer. However, following a promising start activity on the discussion board diminished and general feedback from those we talked to was that they would like our resources available on one website. With this in mind we closed Clinical Audit Tools in May. We are working to move the most popular resources over to our business website over the next few months and these should be online and available in the Autumn.
Latest news from CASC
Aside from the other activities listed in this newsletter, we are currently working on a short report focusing on how we believe clinical audit could be taken to a new and improved level in 2016. This report follows on from our annual survey and reinvigoration workshop held at the national conference in March. At the moment we are obtaining views from trusted local clinical audit professionals to gain feedback on our ideas and we hope to publish this document in July. In addition, our newly accredited Quality Improvement one-day course is now available for in-house and central training. If you are interested in attending the provisional date for the first course in Leicester is 13th October. Please contact us for a flyer and more details.
Request your CASC information pack
CASC have developed a series of promotional materials that provides you with more details of the work that we support. The electronic pack includes information relating to: Introducing CASC, training and accreditation, support and consultancy, sharing best practice, event management and CASC case studies. The materials provide a great overview of how we work with healthcare professionals to improve the care that they deliver and there are a number of excellent case studies that show how our work has enabled organisations and teams to collaborate with us on ventures that have improved care, assured best practice and saved money. If you would like to receive your electronic copy then please email us via info@clinicalauditsupport.com
Tell your friends/colleagues about our E Newsletter

Since we launched our E Newsletter in February 2007 over 1,000 healthcare professionals have signed up! The E News is free and delivered direct to your email account every month. The newsletter provides you with a mix of CASC-related and other clinical audit news to help you keep up to date with what is happening in the world of clinical audit. Don't forget, if you have missed a previous issue of E News please visit the eNews section of our website where all previous issues are archived. Please email to sign up for your copy: info@clinicalauditsupport.com