Community and Mental Health Summit: The Return!
Earlier this year in March we held our first-ever Clinical Audit Summit for those staff working in Community and/or Mental Health Trusts. The day reviewed the current state of clinical audit and attendees were given the opportunity to network and listen to keynote speakers including Carl Walker from NQICAN. Those present were keen for us to run a follow-on event and we are pleased to announce that this will be held in Leicester on 2 November. The focus of the next event will be to look at how staff working in these sectors can learn from each other and better share their resources. We are indebted to AMaT (Audit management and Tracking) for sponsoring the day. Those wishing to book a place/register interest should click here.
NQICAN's new portal is almost here!
Ever since clinical audit was established in England there have been a number of attempts to create forums and portals to help those working in the sector. The Clinical Audit Association tried a number of approaches and HQIP set up both the National Clinical Audit Forum and Clinical Audit Knowledge Exchange. Therefore, it is exciting to announce that local audit and QI professionals at NQICAN have collaborated with Formic to create a new resource that is scheduled to go live on 6 September. The new networking forum is designed to: be a secure space for professionals, to encourage and enable sharing of materials, allow and encourage discussion on local and national audits, etc. The resource will be open to all. CASC would like to congratulate NQICAN for their hard work and we wish NQICAN every success in this venture. We encourage all audit staff to register and actively participate.
MedEconomics publish CASC FTSU guidance
We are delighted to announce that at the end of August, Medeconomics published an article by CASC Director, Tracy Ruthven, focusing on how general practices can most effectively implement the new Freedom to Speak Up Guardian requirements. Medeconomics is an established GP business resource providing practical, accessible advice and information on important factors affecting the life of a busy general practice. The article includes Tracy's personal experiences to date acting as the FTSUG for Rainbows Hospice in Loughborough. In addition, the article includes ten key tips that will help those who are undertaking this important work.
Latest on junior doctor competition
Our junior doctor clinical audit and quality improvement competitions are now in their eighth year and entries closed at midnight on 3 September. Over the coming weeks we will be reviewing all the entries and determining what will happen next. We thank all those who took time to enter and we will be contacting authors with more details before the end of September. We are also delighted that HQIP have invited CASC and previous junior doctor winners to present in their QI Theatre as part of the Patient First event at Excel in London on 21-22 November. This will be a great opportunity for junior doctors and local teams to showcase the excellent work that they are conducting. CASC and HQIP will supply more details in due course.
CASC training events and support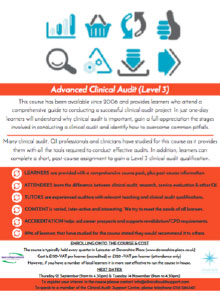 Our next accredited training is Advanced Clinical Audit and this will take place in Leicester on 21 September. There is still time to book onto the course. We are also in the process of scheduling further training in prior to Christmas and we are hoping to run our Train the Trainer course in a number of locations. Please get in touch if you would like more details. As ever we are able to run low-cost bespoke in-house training in clinical audit, root cause analysis, significant event audit and quality improvement methods, etc. If you have a number of staff that would benefit from accredited training then our in-house service is often the most cost effective and practical solution. Click here for more details.
Latest national news
With August being peak holiday season the last month has inevitably been a fairly quite one for those working in clinical audit and QI. We are still waiting for NHS England to publish details of the national contract re-tender (currently held by HQIP until the end of March 2018). We understand NQICAN are involved in a forthcoming meeting to help scope the new tender. Meanwhile, HQIP have put out a call for presentation proposals as part of their involvement in Patient First (21-22 November in London). More details are available here. In addition, the Q community (a growing collaboration involving the Health Foundation and NHS Improvement) are currently recruiting new members. Click here to find out more. There is also a national conference talking place in Birmingham on 19 October. More details here.
Request your CASC information pack
CASC have developed a series of promotional materials that provides you with more details of the work that we support. The electronic pack includes information relating to: Introducing CASC, training and accreditation, support and consultancy, sharing best practice, event management and CASC case studies. The materials provide a great overview of how we work with healthcare professionals to improve the care that they deliver and there are a number of excellent case studies that show how our work has enabled organisations and teams to collaborate with us on ventures that have improved care, assured best practice and saved money. If you would like to receive your electronic copy then please email us via info@clinicalauditsupport.com
Tell your friends about our eNews

We first launched the CASC e-Newsletter in February 2007 with the aim of providing those with an interest in clinical audit and QI with a free regular monthly update. Since that time hundreds of subscribers across the world have joined our circulation list. The newsletter provides subscribers with a mixture of CASC-related and other clinical audit, quality improvement and patient safety news to help you keep up-to-date with current events. Don't forget that if you have missed a previous issue of the newsletter then you can visit the eNews section of our website where all previous issues are archived. If you wish to sign up for your own copy or know others who may be interested then please email: info@clinicalauditsupport.com