Junior Doctor 'Clinical Audit of the Year' announced
The Clinical Audit Support Centre have teamed up with Healthcare Events to run the first-ever 'Junior Doctor Clinical Audit of the Year' competition. The competition is open to all junior doctors and full details on how to submit your entries are available here. Successful entrants will be invited to display their clinical audit projects at the 'Junior Doctor Led Clinical Audit' conference (see below for more details) in Manchester on 18th November. Entries must be received by 27th September and the winner receives a bundle of prizes, including: publication of their audit project in Clinical Audit Today journal, the opportunity to present their audit at Clinical Audit and Improvement 2011 conference in London and a further free place at a forthcoming Healthcare Events conference. If you work in clinical audit, please circulate this information to junior doctors who have completed a clinical audit project.
Audit shows 99% of attendees would recommend CASC courses
In true audit fashion the Clinical Audit Support Centre have undertaken a review of our training evaluations for all courses run in 2009. 99.1% of learners who attended our courses stated that they would recommend the course to others and 98.5% of those who paid to attend our training stated that the course represented value for money. 96% or more of learners rated our training as 'good' or 'very good' in relation to 'knowledge and tips from tutors', 'teaching style adopted by tutors' and 'the course overall'. Courses for September are now full but we do have availability on Advanced Audit (9th November) and Train the Trainer in Clinical Audit (10th November). We are also able to deliver accredited training within your Trust/organisation. For more details contact us via info@clinicalauditsupport.com
HQIP update their website and release new products
Summer 2010 is proving to be a busy time for HQIP. The charity have recently updated their website and made significant alterations to the National Clinical Audit Forum. NCAF has been overhauled and those interested in the resource are now able to watch a cartoon that promotes the resource. HQIP have also launched the 'Local clinical audit: handbook for physicians' in collaboration with the Royal College of Physicians and authored by Jonathan Potter, Claire Fuller and Martin Ferris. HQIP have also recently released their new 'Guide to Working with Industry on Clinical Audit'. This document is a collaboration with Cambridge Institute for Research, Education and Management and provides guidance on how audit teams and healthcare professionals should work with non-NHS organisations on clinical audit projects.
White Paper makes reference to clinical audit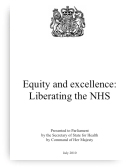 The new White Paper 'Equity and excellence: Liberating the NHS' published in July 2010 by the Secretary of State for Health makes three references to clinical audit. These include the suggestion that national clinical audits will be extended and more widely used (p14). The document also mentions that the Department of Health will "link quality measures in national clinical audits to payment arrangements" (p25). It is noticeable that no references are made in the White Paper to local clinical audit, but it is likely that the role of this will also be strengthened as the White Paper focuses on many relevant themes, e.g. more patient choice, increased focus on outcomes, payments by performance, a culture of open information with patients able to access data more easily, etc. The disappearance of PCTs/StHAs and the emergence of GP consortia are also likely to enhance the need for local audits by assuring commissioners that providers are delivering appropriate care to patients. To read the White Paper in full, please click here.
Practice Manager Study Day generates considerable interest
CASC's Practice Manager Study Day on 16th September has generated considerable interest with over 60 delegates now signed up to attend. There is a stellar line-up of speakers including internationally acclaimed author and training guru, Andy Cope, plus successful businesswoman and star of 'The Secret Millionaire', Kavita Oberoi. All delegates will have the opportunity to select two workshops from Dealing with Stress, Effective Leadership and Employment Law. The day also includes a number of speakers who will focus on how practices can increase their income and profitability. The cost of the event is £140 inclusive of VAT and you can access the event flyer by clicking here.
Who is staying and who is quan-going?
The Department of Health published 'Liberating the NHS: Report of the arms-length bodies review' on 28th July 2010. The report sets out proposals for arms-length bodies (ALBs) in the health and social care sector and is likely to have implications for healthcare staff working in clinical audit and quality improvement. The report focuses on the new coalition government's strategy to increase accountability and transparency and reduce the number/cost of quangos. The report cuts the number of ALBs from 18 to between 8-10 and will deliver savings of over £180 million by 2015. Abolished quangos include: National Patient Safety Agency, Health Protection Agency and NHS Institute for Innovation and Improvement. To access the report in full, click here.
Improving the Quality of Junior Doctor Led Clinical Audit
This one-day conference take place on 18th November 2010 at the Manchester Conference Centre and focuses on improving the quality of Junior Doctor led Clinical Audit and the role that clinical audit teams and consultants play in supporting the delivery of junior doctor led clinical audit. The afternoon incorporates an interactive workshop facilitated by Stephen Ashmore and Tracy Ruthven (Directors of the Clinical Audit Support Centre). The workshop allows junior doctors to gain advice and guidance on the basics of clinical audit and what a good Clinical Audit should include and demonstrating that clinical audit makes a difference to patient care and practice. To download a brochure for the event visit http://www.healthcare-events.co.uk/ct/HAP1900/conf and for more information contact Keren on 020 8541 1399, email keren@healthcare-events.co.uk.
Register for the CASC E-News!
Since we launched our E Newsletter in February 2007 over 1,000 healthcare professionals have signed up! The E News is free and delivered direct to your email account every two months. The newsletter provides you with a mix of CASC-related and other clinical audit news to help you keep up to date with what is happening in the world of clinical audit. If you have missed a previous issue of E News please visit the community section of our website where all previous issues are archived. Follow this link to sign up for your copy.